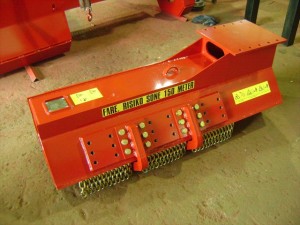 Brush can be quite the nuisance. There are a variety of reasons for wanting to rid your property of brush, and using brush clearing equipment can be a simple and effective way of getting the results you need. Whether you are a homeowner with accumulated brush cutter on your property, or a large business wishing to clear a space to construct a new building, the most effective way to clear small and large amounts of brush is by using an attachment for excavators.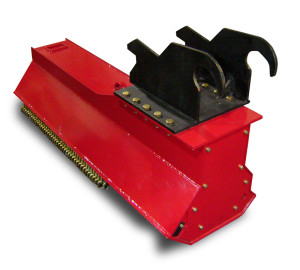 Not all parcels of land come pre-cleared. You may find that the land you just purchased to build a house on is so cluttered with brush and undergrowth that you have no solid place to build. In that case, a brush cutter attachment for skid steer work can be used to clear out all of the unwanted vegetation and make way for any large building projects.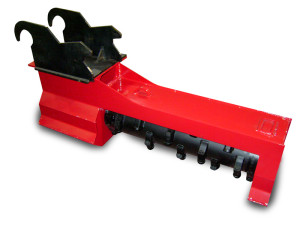 Leaving some trees and vegetation on the lot is probably a good idea as it can add aesthetic value, and a mulcher attachment for excavator work allows you to pick and choose what you want taken out and what you want to keep. They can rapidly break up the brush and turn it into mulch, which you can then use in any landscaping endeavors on the property.
Homeowners may want to use a brush mulcher head attachment for mini excavators to rid their property of overgrown shrubbery and plant-life that is unattractive. This sort of unwanted undergrowth can not only detract from property value, but it can also make projects that increase value, like landscaping, much more difficult. Since this type of growth is generally uncontrolled and dense, it can also prevent the soil and any underlying, good vegetation from absorbing sun and moisture and thriving. Using a brush mulching head attachment for mini excavator operation can quickly eradicate this problem and leave you with a pristine, healthy yard.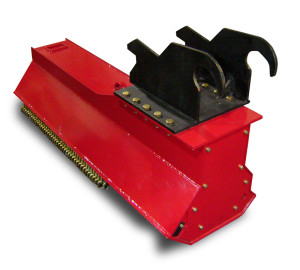 Both businesses and homeowners should also be protecting their land and the surrounding areas from infectious tree diseases that can spread quickly and easily. These can sometimes be harbored in very dense undergrowth. Brush clearing attachments also help rid the property of any damaging insects, like termites, that might make their homes within the brush. Insects and diseases are drawn to the exact type of environment that dense growths provide: moist, dark, and hidden. In fact, you may not even be aware of a burgeoning problem until the brush has been cleared. By cleaning out these destructive elements, you help preserve the healthier flora.
Brush clearing attachments are a much simpler, and much less sweaty, way to clear away whatever dense growths plague your property. Manually clearing away brush is time consuming and burning brush is outright dangerous as you can only control fire to a small degree and it can easily spread into adjoining forest.
Brush clearing attachments for excavators allow the user to clear brush entirely away, or to leave a thin layer of brush that is more manageable and less detrimental to the landscape. This type of arrangement is mutually beneficial, your property retains that natural look and you have provided a platform on which new, healthy vegetation can flourish.
Check our product page to see a whole array of powerful, lightweight attachments for excavator work. And to learn more about Torrent Mulchers and attachments, please do not hesitate: contact us today!