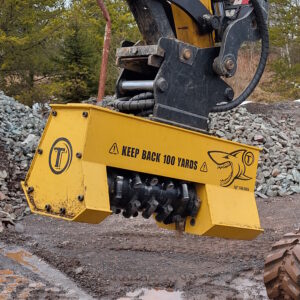 Mini-excavators are specialized pieces of equipment that serve a number of different applications. You can use a mini-excavator to landscape gardens, dig out the basement of your home, and much more. A mini-excavator mulcher attachment allows you to shred brush and small trees. Some common uses of the mini-excavator mulcher attachment include trail maintenance, drainage management, landscaping maintenance, fence line mowing, and land management. Having a mini-excavator mulcher on hand can make a weekend landscaping or utility project an absolute breeze.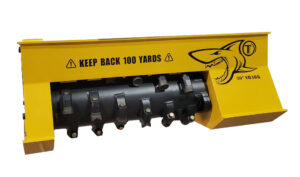 Whether you are a homeowner, the owner of a mulching/land clearing business, or a construction company, you can benefit from investing in a mini-excavator mulcher for its sheer excellence in brush cutting. Although mini-excavator mulchers are small in size, they share the same durable construction of their larger counterparts. Mini-excavator mulchers are easy to operate, leave a small footprint, and have precise results.
How it Works
A mini-excavator mulcher is used to grind organic material to transform it into mulch. The mulch that results can be used to fertilize the lawn and garden or prevent the growth of weeds by serving as a protective landscape cover. Using mini-excavator mulchers is also an economical and environmentally-friendly way to reduce 20% of the waste found in landfills. In fact, a mulcher can reduce eleven bags of organic waste into one through its efficient shredding capabilities.
When deciding whether to purchase a mini-excavator mulcher, you need to determine if it would be the most economical to lease, buy, or hire. If you only need the mini-excavator mulcher for a short project, your best bet would be to rent one or hire someone who works with one. The cost of hiring someone to work with a mini-excavator mulcher is around $130 to $150 per hour. Rental pricing can vary based on the model, the tools included, and the delivery address. If you are working with a small amount of material, you should consider using a more compact mulcher.
If you have a long-term project or you need the mini-excavator to work on several consecutive projects uninterrupted, consider leasing. The difference between leasing and renting a mini-excavator mulcher is that when you lease it, you actually own it for the duration of the lease. Leasing a mini-excavator mulcher can be a lot cheaper than renting if you are working on long projects or several consecutive projects.
If you run a construction business or other business that requires the ongoing use of a mini-excavator mulcher, purchasing one is a good option. A mini-excavator mulcher can be used to effectively mulch vegetation on undulating terrain and surfaces, wet areas, over drains, and other hard-to-get places.
Features to Look For
Some features to look for in a mini-excavator mulcher are efficient design, durable construction, and simple installation. Some mini-excavator mulchers require a lot of power to use and thus necessitate additional mechanical and fluid power components for installation. Look for a mini-excavator mulcher that can be installed at a minimal cost.
Despite their small size, mini-excavator mulchers are powerful when it comes to mulching and clearing land. Make your mini-excavator a powerhouse for removing undergrowth and shredding small trees with a mini-excavator mulcher attachment.
To learn more about Torrent Mulchers forestry products, please contact us.